'Brave the Waves' - Safe to Swim Programme
BABIES, CHILDREN, YOUNG PEOPLE & ADULTS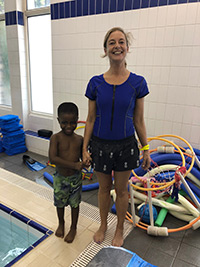 BACKGROUND
With over 20 years experience, the founder of Brave the Rage, has designed swimming workshops to provide positive solutions to stress, anxiety and anger.
'Brave the Waves' provides life saving tools for all generations, helping to achieve confidence in water and the sea.
AIMS
Brave the Waves provides a 'Safe to Swim' 5 x Day Programme, providing a creative but solution focused approach for children that have little or basic swimming skills.
Confidence building tools and techniques with expert swimming tuition provide top tips for anxiety and overcome fears.
Braves the Waves provide a simple, fun but structured swimming progression route with Stage 1, 2 and 3 Certificates on completion.
Julie K Wilkinson is a certified UK based ASA Swimming Instructor Level 1 & 2 with Royal Society Life Swim Rescue Award.